CAPTAIN EDDIE POTTER
AVAILABLE FOR BOCA GRANDE & PLACIDA CHARTERS
Specializing in Fly Fishing Trips

Coming from an area fishing family, Capt. Potter fishes from a 21' Shallow Sport and a 22' Pathfinder both in the gulf and inland waters. From families with young kids to the most experienced fly fishermen, Capt. Eddie will work hard to make your trip enjoyable and productive.
Eddie uses two boats to work the areas of Charlotte Harbor and the Gulf of Mexico. His 22' Pathfinder has proven itself over the last nine seasons. It still works the shallows well, but can cut through the choppy open waters nicely. It is the primary boat for late spring and summer tarpon, shark, trout, mackerel, and all the other species of fish that frequent the deeper waters. The boat's short tower works well for spotting fish from distance in open water as well around deeper mangrove islands in the backcountry.
Eddie's other boat is the 21' Shallow Sport. Bought in November of 2007, it has a tunnel hull for use in extreme shallow water. Used from the fall until early spring, the Shallow Sport is Eddie's main boat for backcountry fishing for Redfish, and Trout. It is not built to run in real choppy water, but it will run in three inches of water. During the extreme winter low tides, this boat will put Eddie and his clients in the best locations when other boats are left miles away. The winter is one of Eddie's favorite times to fish.
Eddie can cater a trip to whatever needs you require.
---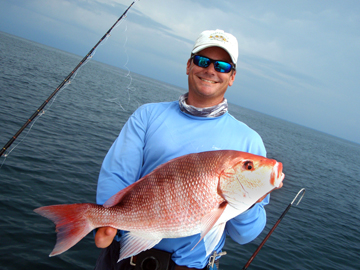 In August of each year, Captain Eddie Potter will be fishing out of Mexico Beach, Florida! He will have charter trips available for KING FISH, tarpon, grouper, mackerel, and redfish. Since 2011, Eddie has been fishing up in North Florida, and has found that Mexico Beach is a largely undiscovered fishing haven! Much like Boca Grande prior to its development, Mexico Beach is a lovely resort town filled with colorful locals, pristine beaches, and incredible fishing! Once the season dies down in Boca Grande, Captain Potter, along with Captains Willie Mills and Marty Scott, will all be fishing these upstate waters. Book your trip now!
Of course, all three Captains will be return home by late September for the Snook and Grouper action back home in Boca Grande/Placida.