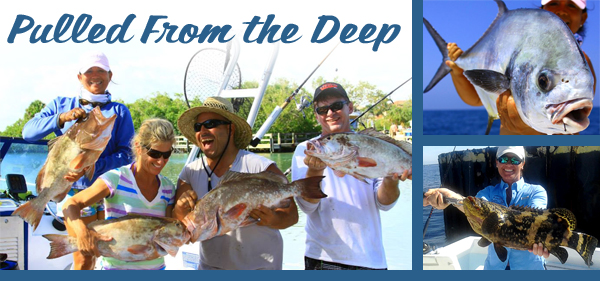 Gulf Coast Charter Brokers offers several different types of fishing excursions. The area of the gulf coast in which we are located has access to both sheltered bays and harbors as well as the open gulf and the deep water channel of Boca Grande Pass. We have a wide variety of fish to target, and with each fish, comes a different approach.
---
In the shallow waters of Charlotte Harbor and Lemon Bay, the fish congregate along the grass flats and often in the shade of the many mangrove islands. By utilizing boats with a shallow draft, trolling motors, and push poles, our Captains can get you into the tight areas where the fish feed.
Redfish and Trout can be found all year long in the harbor and bay. Snook are also on the rebound and should have an open season in late 2013. Of course, they are always good for a fun fight, but until the season is open, all snook need to be returned to the water quickly.
Inshore charters are typically four hours and most boats can accommodate up to three anglers. On the longer shallow boats, we can accommodate up to four. Trips usually go out in the early morning, but depending on tide, moon, and weather conditions, you may schedule for later in the day; it is best to consult with your Captain for the prime hours of fishing.
Gulf Coast Charter Brokers also has several Captains that cater to Fly Fishing enthusiasts. On these trips, we like to limit the anglers to two per boat. Our Captains are happy to give basic instruction and will provide all necessary equipment. Or, if you're a more seasoned fly fisherman, you are welcome to bring your own gear to use on your charter.

Going out a few miles, or up to 15 miles in the Gulf of Mexico is another option to consider. Throughout the year, different species of fish migrate through our area waters. Snapper, Kingfish, Mackerel, Tarpon, Bonito, and others make an appearance offshore in the Gulf. Our deep water boats are larger, sturdier boats with high gunnels, and captains chairs with gimbal holders. Most of our deep water boats also have restroom facilities. Half and day charters are available.
In 2013, a new tournament the "Mack Attack" was established to encourage anglers to compete for one of our edible resource fish! The tournament is scheduled to be held twice in 2014. Look for the tournament to be held in April, and again in September.
Tarpon fishing along the Gulf Coast of Florida is every anglers dream! We offer sight casting, "beach fishing" trips, as well as traditional drift fishing in Boca Grande Pass.
Tarpon fishing charters run from late March usually into early August while the tarpon migrate into Charlotte Harbor and around our coast. Trips are typically three hours for a 1/2 tide trip, and five hours for a full tide trip. For prime dates in May, or for tournament fishing, it is best to schedule your charter up to a year in advance for a guaranteed date. Charters are available during the height of tarpon season, however, we ask for a bit more flexibility with your date choice; simply supply us with a date range that you would be available to fish, and we will match you with the perfect Captain and boat for your requirements.
Catching a Silver King is often on the "bucket list" of many of our clients. Some come to us with experience, some with only a dream of catching one. We welcome both professional and novice anglers aboard! Pre-teens and adolescents are also welcome!
All of Gulf Coast Charter Broker Captains utilize the traditional drift method of fishing in Boca Grande Pass using LIVE BAIT ONLY. Our Captains strongly support the preservation of these mighty fish as well as the fishery. Artificials are NEVER used on our Boca Grande Pass boats.
Boca Grande Tarpon Tournaments include:
The World's Richest Tarpon Tournament (May)
Ladies Day Tournament (May)
Gasparilla Kid's Classic (May)
Howl at the Moon Tournament (June)
Ladies' Howl at the Moon Tournament (June)
Turning Tides Tournament (June)